Emergency Appointments North Ryde and Macquarie Park - Call 8090 1102
North Ryde Dentistry prioritises emergency dental situations. If you have a toothache that makes you unable to sleep at night or makes normal living impossible for you or if you encounter an accident that resulted in unfortunate incidents such as a fractured tooth, or even worse, a completely knocked-out tooth, our emergency dentist Macquarie Park can help you.
To help you proceed with your daily life, we put patients with urgent dental concerns on top of the list of patients we need to attend to. Some toothaches may be affecting your work and fractured teeth can affect your social appeal. These are just some of the emergency dental services that we put first.
In such important situations, you can schedule a same day appointment with us and you can leave our clinic absolutely worry free after your treatment. For some patients who cannot visit as soon as possible, we can extend our hours for after hour appointments.
Whatever the emergency dental problem it may be, calling us is the first step you should do. This goes also for after hour incidents when most dental clinics have called it a day.
Our Macquarie Park emergency dentist can guide you with what first aid measures to perform that may help relieve any pain or other symptoms until you are able to visit our clinic for your appointment.
Emergency Dental Care Tips
For your general information, here are some of the common dental emergencies and what you can do if you encounter any of them.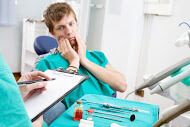 For dental emergencies, the best thing to do is to keep calm and recognise the presence of it. From there, you can proceed with applying correct first aid measures and setting up an emergency appointment with your dentist Macquarie Park.
North Ryde Dentistry understands that sometimes things happen. Dental emergencies are always stressful.
Here at North Ryde Dentistry we understand that seeing a dentist as soon as possible for a dental emergency very important. We are able to provide a same day emergency appointment in most situations. After hour appointments can also be made in certain situations.
In addition to this, our extended opening hours will help those to fit in a dental appointment for those unable to see us during the day.
You need not worry as our team of highly skilled and capable emergency dentists are trained to react promptly and provide you the best emergency dental care Sydney with utmost care.
It takes around 10 minutes to drive from Buffalo Creek Reserve Playground going to North Ryde Dentistry. Head west on Pittwater Rd and turn left onto Epping Rd then use the 2nd from the right lane to turn right onto Delhi Rd. Use the left lane to merge onto M2 via the ramp to Hills District then take the Talavera Rd exit toward Macquarie Park and use the left 2 lanes to turn left onto Talavera Rd. We are located on the left side of the road.