Tooth Removal in North Ryde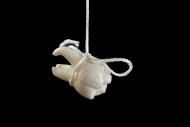 Sometimes it is necessary to remove teeth that are no longer able to be repaired or fixed. Here at North Ryde Dentistry we take the utmost care in tooth removal to ensure it is done as quickly and painlessly as possible. Employing the most up to date techniques ensure a speedy extraction and short recovery time.
We understand that extractions, or any dental procedure for that matter can be an anxious time for our patients. Here at North Ryde Dentistry we offer a range of relaxing methods ranging from soothing music, television and nitrous oxide (happy gas). In addition to this, we are able to prescribe anti anxiety medication when required.
North Ryde Station to North Ryde Dentistry is only about 4 minute drive. Head west on Delhi Rd/A38 and turn right to merge onto M2 toward Epping/Hills District then take the Talavera Rd exit toward Macquarie Park. Use the left 2 lanes to turn left onto Talavera Rd and there you will be able to locate us on the left.