Teeth Whitening North Ryde and Macquarie Park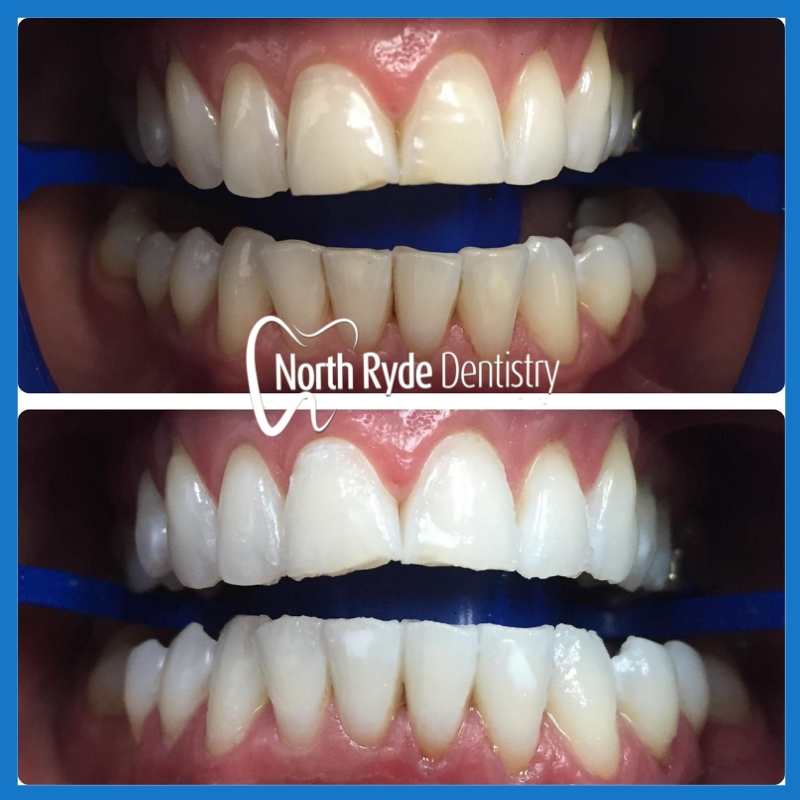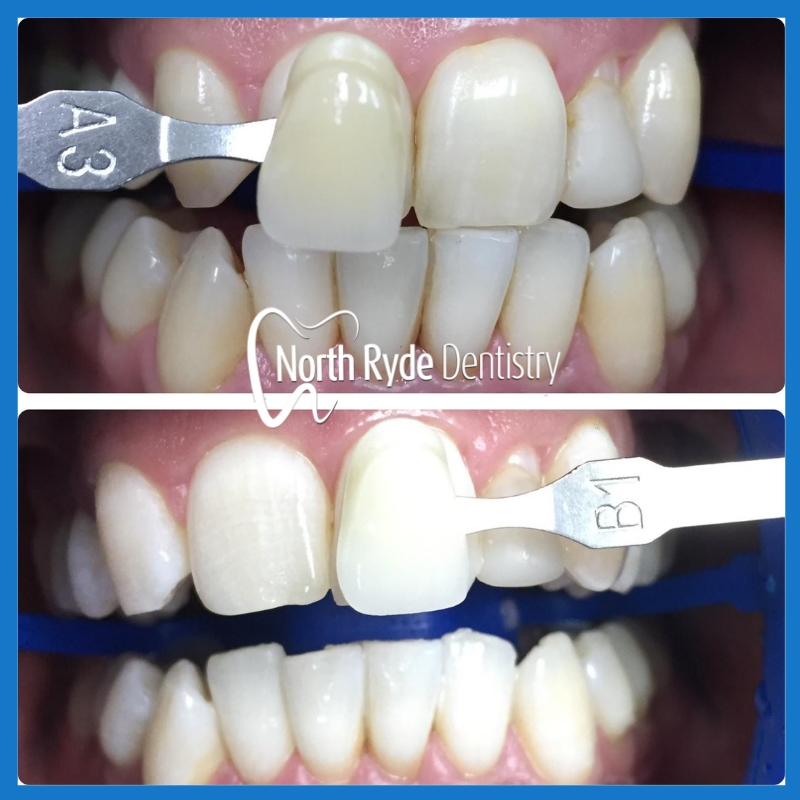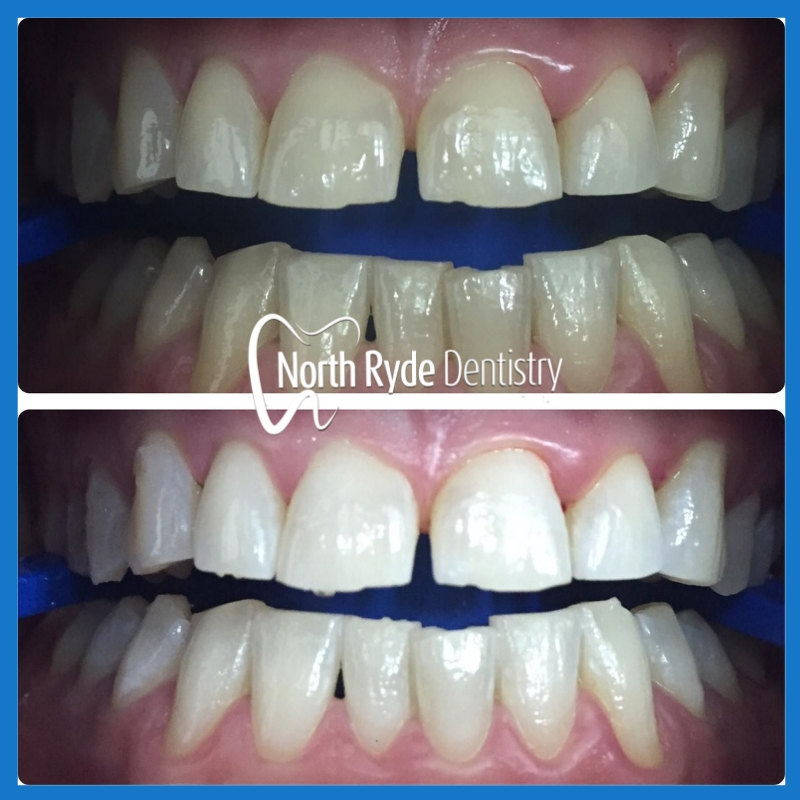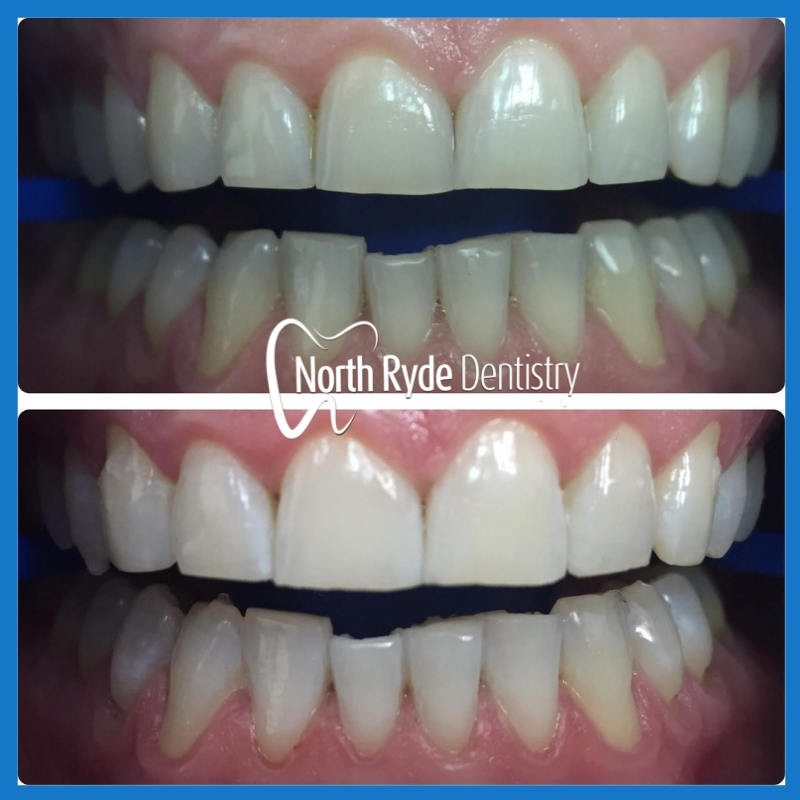 Teeth Whitening – Simple and Effective
Why Choose Teeth Whitening?
Teeth whitening is the most affordable option to brighten the shade of your teeth and improve aesthetics.
What is Teeth Whitening?
Teeth whitening is becoming an increasingly popular and none invasive cosmetic treatment for patients who just want to improve on the whiteness of their teeth.
Unfortunately, all types of teeth whitening system can cause some degree of sensitivity to your teeth, some more so than others. This sensitivity is reversible, and is related to the concentration of the whitening system, the length of time applied to the tooth, and the dehydration levels produced by the treatment.
At North Ryde Dentistry we offer the latest cosmetic dental teeth whitening system: We offer an Australian made whitening system PolaOffice+, which utilises powerful blue-light technology and a high potency whitening gel.
This treatment can be repeated for 2-3 cycles depending on how white you would like to make your teeth.
However, there are certain types of discolouration which cannot be improved with standard whitening, such as leaky old fillings or teeth that have discoloured due to root canal. Your consulting dentist and hygienist will be able to advise you on whether professional tooth whitening is suitable for you.
We also provide take-home whitening as a stand-alone treatment. Two custom fitted trays are made to snug fit around your teeth where whitening gels are loaded into. This is an effective alternative to in chair whitening, which can be applied at a convenient time of your choosing.
This is more suited to people without a time limit and prefer to whiten in the comfort of their own home. This form of teeth whitening is more gradual and significantly whiter teeth will occur over the course of several weeks
Whitening Options
There are several causes of discolouration.  It is important to have your dentist/ oral health therapist thoroughly assess your dental health to determine whether teeth whitening will be an effective treatment for you.
There are currently two teeth whitening options available:
Take-home teeth whitening and
In-chair teeth whitening.
Take -Home Teeth Whitening $299
Our take home kit contains a set of custom-made teeth whitening trays and effective low-concentration whitening gel. Whitening gel is applied to the trays, which need to be worn consistently for 30 minutes every day for a week or two to achieve the desired result. This gives a more gradual change over the course several weeks. This is suitable for those that time poor and prefer to whiten in the comfort of their own home and the time of their choosing.
In-Chair Teeth Whitening $349
At North Ryde Dentistry we offer an express 45 minutes in chair whitening procedure with our SDI PolaOffice+ whitening system.
We have chosen this system over others is because this is proven to be the most efficient, longer lasting and affordable treatment for our patients. This procedure gives an immediate improvement to the whiteness of your teeth.
Some patients may choose to maximise and maintain the results by following up with a take-home whitening system. This ensures that the teeth stay white for longer.
The main benefit of in-chair teeth whitening is immediate results – a significant change in whiteness is seen within a short period of time.
Bundle In-Chair + Take-Home whitening $539
Offer subjects to change without notice.
Coming from Chatswood Station is around 12 minute drive going to North Ryde Dentistry. Head north on Railway St toward Brown St and turn left onto Help St then continue onto Fullers Rd/A38. Turn right to merge onto M2 toward Epping/Hills District and take the Talavera Rd exit toward Macquarie Park. After 400 metres, use the left 2 lanes to turn left onto Talavera Rd where you will find us on the left side of the road.